The GRID is all about maximizing reservations and table management - The Table Plan View is all about running service
Load TMS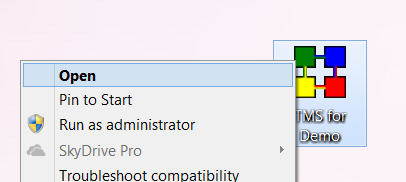 What if it doesn't load?
Check internet connection (load a random website), reboot router
Red letters in the console: May say Debug... in this case please call support 09) 928-6079
System start loading, but console closes after "connect to eveve.com on 3011": call support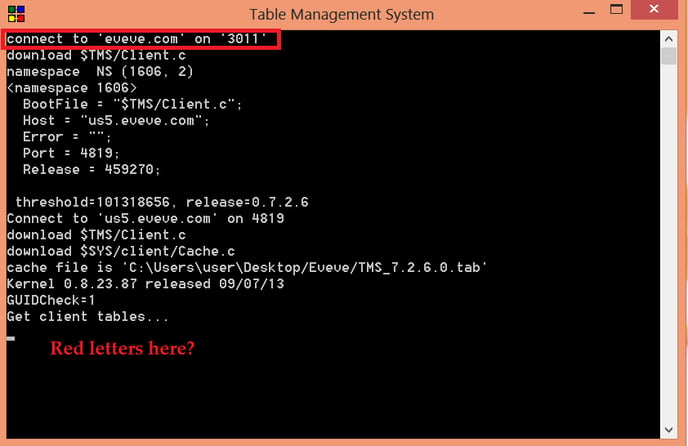 Log on/off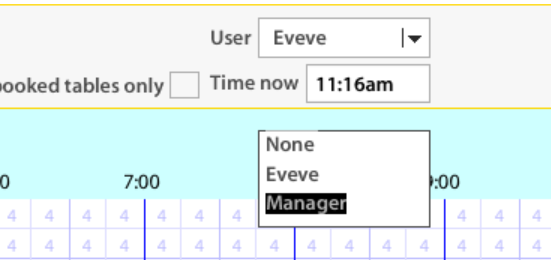 Select user: Press F2 or Click on your name from the drop down. If you were advised of a password, enter it and hit ok, otherwise hit Ok after selecting user name (leave password blank)
Log Off: Press F2 or Click on 'None' from the drop down
Grid Overview:
This is what you will see when your TMS first opens.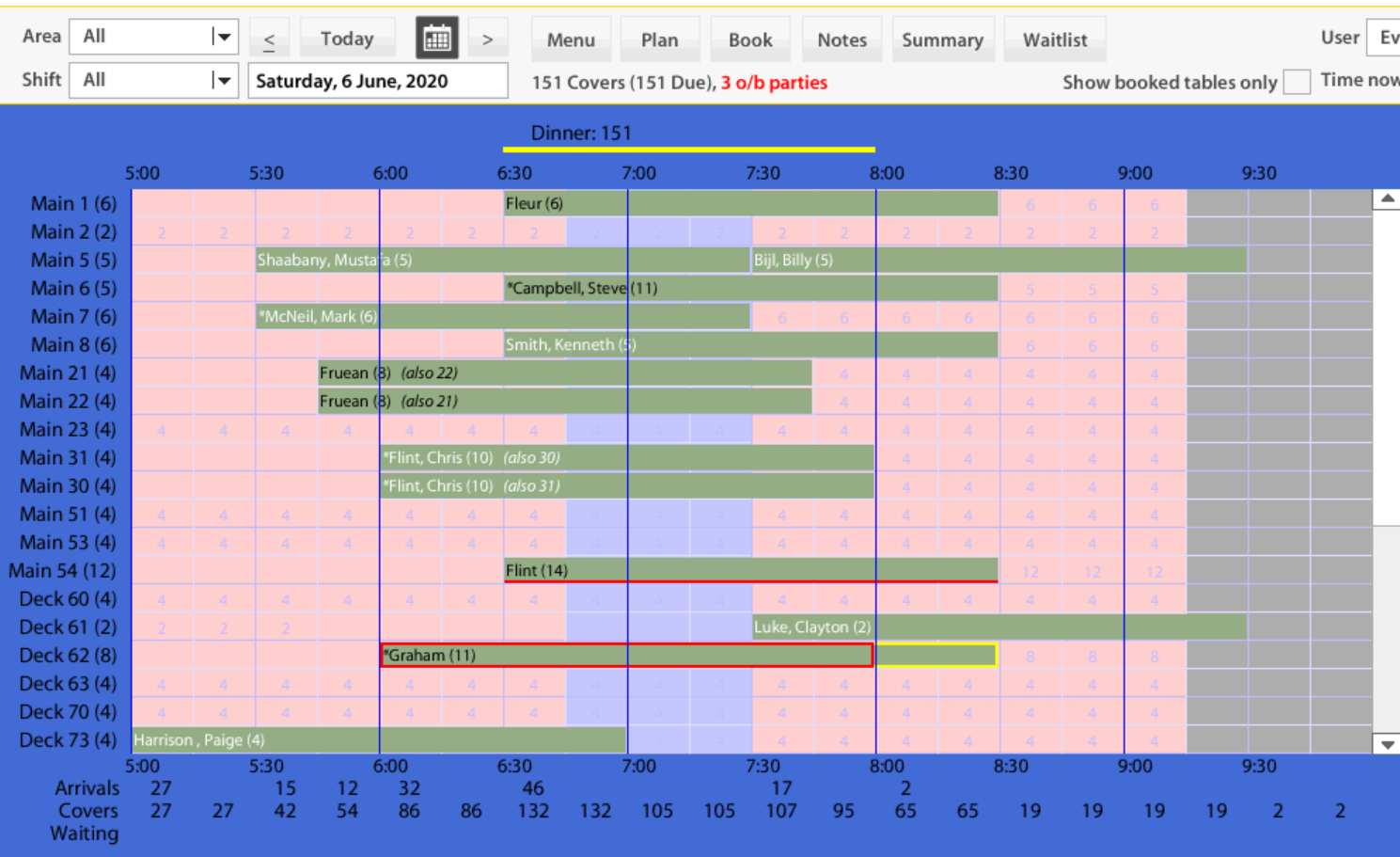 1. Titles
If you have different shifts, such as Breakfast, Lunch, Dinner these will appear at the top and as shown in photo below a number will show next to each shift. In this example you can see that for Dinner shift there was 151 covers

2. Small Calendar
Click on the date showing and this will bring up the month, so you can easily navigate through the dates of that month. Can also click on drop down and go to any other month, click on a date and the grid will go to that day.
Click Today button to return back to today's dates
3. Notes and Reminders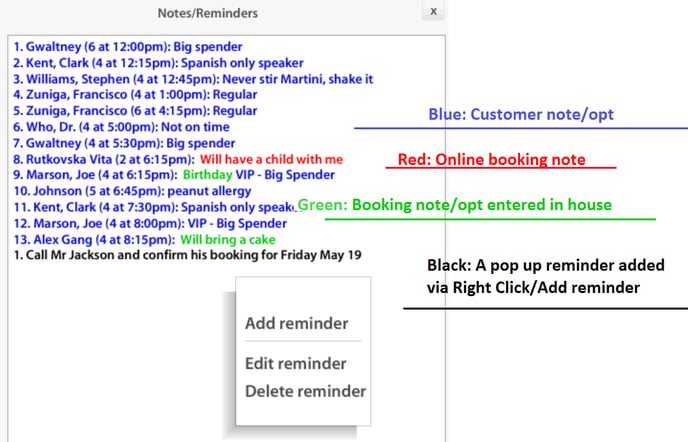 4. Book
By clicking on the Book button at the top, fill in form as shown below. This info will also stay in your database for future use.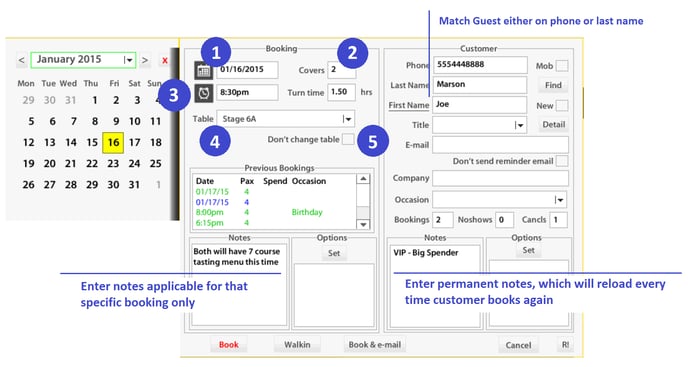 Make an automated reservation following all system settings and restrictions:

Choose date first
Enter covers
Select Available time
Place in phone number, if this has been used before when you click into name their details will appear.
If this is a first time client, please try and gather first and last name, if can only get First Name you will need to repeat their first name. This can be updated when you have maintained their last name at later stage.
Time will simply not appear in the Available pop up if restrictions have been applied or the times are fully booked
Next available table will be allocated, however you can select another available table from the dropdown
5. Timeline (opening hours)
You can see the hours you are open along the top of the Grid
6. List of Tables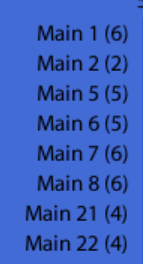 The number in brackets, represents the optimal covers for that table, but the system also knows the variations (min / max people allowed on this table)
You may also have combinations set up in the system. If a reservation is made on a 'combined table', each of those tables will be blocked off.
Notice, there is a scroll bar on the right of the screen to see remaining tables
7. New arrival and total cover count by slot
Shows how many people are booked in per slot and the total expected to be 'in house' per slot
8. Square without a number: Automatically blocked out slots to avoid overlapping bookings
This will not be available via Book button nor online as there is not enough dining time till next reservation (managers can override this)
There can be different turn time set up for time of day or according to the size of the party.
9. Red area: All reservations Blocked (this can be applied for the whole restaurant, specific times and tables)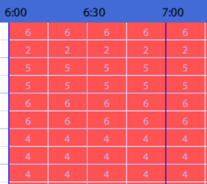 No bookings will be available online or via Book button, unless by user with permissions
10. Light pink area: Internet reservations blocked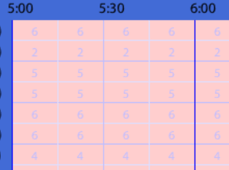 These are tables or times, that are not available online. You may also have other tables that are set as no-online and they won't appear pink. This is because they have been arranged in set-up.