How to restrict certain times to only allow bookings for a specific amount of covers?
1. Open your E.Diary and go to the Grid or table view
2. Right click where you want to make the booking restriction and click 'block session'
3. Select internet and then choose the times you want the restriction to be in place.
4.) Next to 'Allow' and before 'covers' you need to put the amount of covers per booking (separated by a comma) that will still be allowed to make a booking during this restriction. E.g. 4,5,6,7 (This will allow bookings of 4, 5, 6 or 7 covers).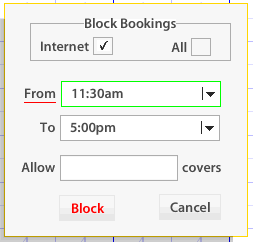 5.) Click Block
Your E.Diary will not change to pink except for tables that accept that covers that you 'allowed'.
To check everything is set up the way you want - Go to your reservation form and try booking for different covers on the restricted time.
If you need help or have any questions, please call us: 09 928 6079.