How to Extract your Client Database
Holidays or quiet periods are a great time to advertise your restaurant's upcoming deals and events.
Exporting your customer's contact details is easy using the 'Marketing' tool in your Eveve System.


How to export your database of customers emails and contacts (1 min - 5 steps)
1) Open your E.Diary and click on 'Menu'

2) Scroll down and click on 'Marketing'





The 'Marketing' dashboard will open:
The Diner database Summary to the left will tell you how many contacts are in your database.

Then you will use the 'Filters' and the 'Match' button to the right to get the system to collect the right emails for you, so they are ready for export.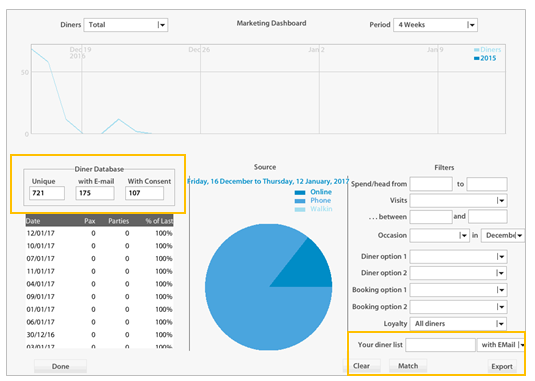 3) Before you hit 'Match', you need to make sure you are filtering for some content. We recommend:
Go to the bottom to find the

'Your dinner list'

filter (as it is shown in the image below) ;

Select 'With Consent';
Then click the 'Match' button underneath.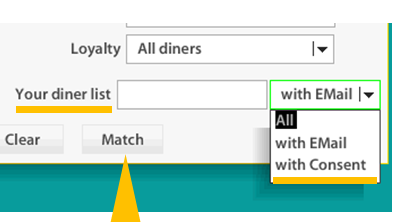 NOTE: Filtering for 'With Consent' means you will only get the contact details of the customers who have agreed to be contacted by you.

4) You will see a number showing how many contacts have been collected.




5) To finish, click 'Export'
If you also want phone numbers, select 'Any Phone '
Then click 'Export' again.
6) You're done!
This will export all of your customer contacts into an excel file with 'customer name', 'contacts', and 'emails'. You can then upload the file into your chosen email marketing tool.

Call us if you have any questions or troubles: 09 928 6079