If your restaurant will be closed on a day that you are not usually closed - it's make important to sure that your booking system is updated so you don't get bookings.
Updating your system is easy, and you can call anytime if you have questions or would like a hand: 09 928 6079
1) To close bookings, or change the opening hours for a couple of days only:
1. Open your E.Diary and click on 'Menu'
2. Scroll down and click on 'Opening Hours'
3. In the top right 'Special Dates', right click in the blank area under 'from' and 'to', and you will get a drop down, click 'Add date'.
4.Enter the dates into the 'Date Range' box that will appear, and select the Rota with the hours that you want for that one day. Most often this will be the 'Closed' Rota.
Note - if you only want to close one day put the same date in twice eg. Christmas day only would be 25/12/16 - 25/12/16
This is because the date you put in 'To' will also be closed.
5.
Save
the 'Date Range', Save 'Opening Hours'
To check everything is working - In the 'Grid' use the calendar to go to the dates you have changed you will see the hours are different / 'Closed' message if you have gotten everything right.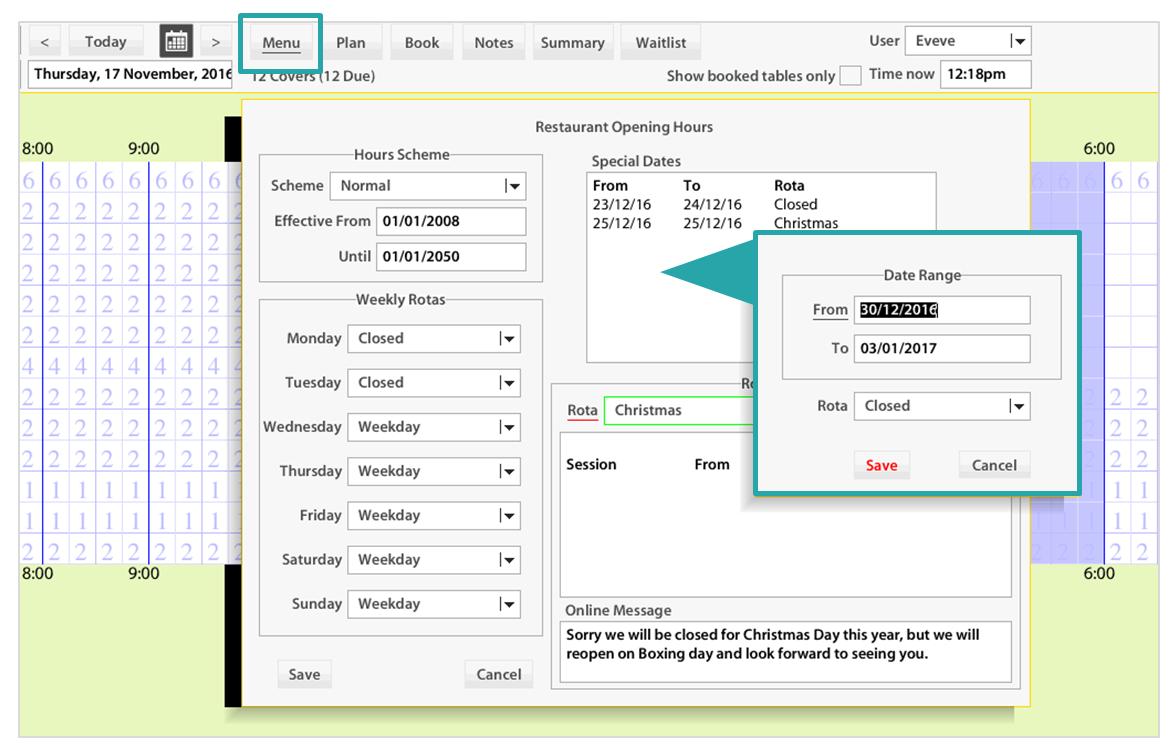 2) Advanced - Adding messages that appear when certain days are selected on your online booking from
Did you know that you can add messages that appear to the customer when they try and select a date?
For example - If you are closed for Christmas,
you can set up your E.Diary so people trying to book for Christmas through your website will get a special message just for Christmas.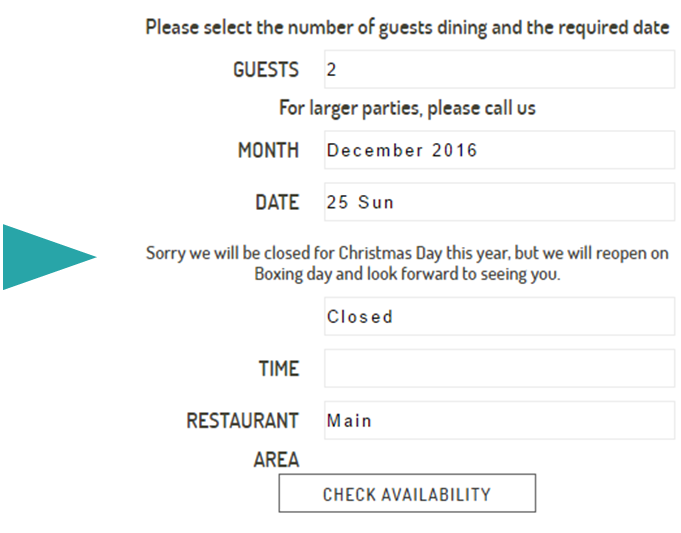 To add an Online Message
1. Open your E.Diary and click on
'Menu'
2. Scroll down and click on
'Opening Hours'
3. In the bottom right, select a
'Rota'
or make a
'New Rota'

4. Click on the white space under 'Session, From, To, Type, Online same day cutoff' if you need to add opening times the Rota (Breakfast, Lunch, Dinner),
or
if you are closed, simply leave this blank. (see in example below)
5. Enter the message that you want to have appear on your website in the box under
'Online Message'
(see in example below)
6. Lastly, make sure the Rota is applied to a date, either as a
'Special date'
or
as a weekly occurrence by selecting the Rota against week days in the
'Weekly Rotas'
section
7. Click Save - then go to your website and check the message appears on your booking from when you select the right dates