Using your Eveve App (for tablets & mobile phones)
1. Set up your user name and password.
You can have as many users as you like, and this can be installed on multiple devices.
Give us a ring or follow the instructions below:
In your TMS (on your desktop) select "menu" in the top menu bar
Select "users" from the drop down list
In the User window add the name, access, & email address of the user.
Right click on the email address of the account & select "select App password"
Set & confirm the password
NOTE: Passwords must be 7 digits long- please include one capital and one number
Click "save" out of the "set password" & "users" window
2. Search for Eveve, on Google Playstore or App Store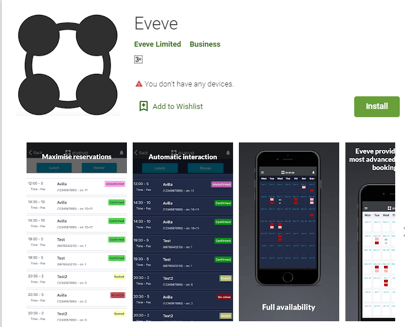 3. Log in
Using the same email and password you set up login once installed, please make sure there is no spaces after your email or your password, as this will be counted as a character.
The app will save your password so you will only have to log in once. If you have multiple systems that you'd like to view, make sure that you use the same email address and password on all systems, this will give you a drop down menu allowing you to access all of your TMS with one log in.
4. Calendar
Once the app opens, you will see your calendar.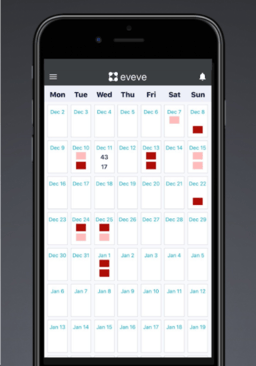 From here you can view the following:
See the amount of diners per session that you have booked in
See system blocks (Pink or Red Block) Pink is a internet block, Red is an all block.
View 13 Weeks at a time.
In the Calendar view, click/hold on a date to:
View bookings (the "party list") for the entire day

Book a session
Block/Unblock a session
Edit or Cancel booking, click the name of the person, scroll down. You can either cancel, or pick the drop down box and change to confirm., left message, no show etc.
You can also see each persons name who has booked and if they have confirmed or not confirmed (Green means Confirmed, Pink is Unconfirmed). If you click on a person's name, this will bring up further details inc Phone Number, and Email address.