Restaurant Hub partners up with the world's largest travel site to optimize your bookings. Getting your restaurant listed is the first step.
TripAdvisor is the world's largest travel site, with millions of travellers visiting each month to research and plan their perfect trip.
As TripAdvisor's partner, Restaurant Hub makes your restaurant bookable on TripAdvisor and lists reviews on your Restaurant Hub's feature page.
Being on Tripadvisor will increase your restaurant's awareness to the audience and it is one of the many free marketing tools. In order to make your restaurant bookable, you need to get it listed! Follow the steps below and it's super simple!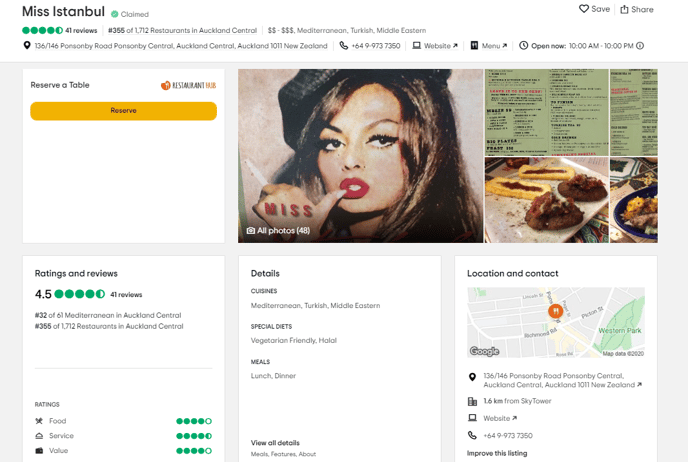 Here below is the step-by-step guide on how to get your restaurant listed and collect reviews on TripAdvisor:
1) Get your restaurant listed on Tripadvisor: you can request a listing as a business representative or provide relevant information regarding your business if a TripAdvisor user already left a review and initiated a listing
2) Restaurant listings appear on the Restaurants section of Tripadvisor. Individual restaurants that are open to the public can be listed. You'll be asked to provide the category of your restaurant (sit down, café, or fast food), type of cuisine, pricing, and any special features. These items will appear on your listing page and will help travellers decide to dine at your restaurant.
Read the full guide on restaurant listing here.
For more information and advice on how restaurants can get the most out of Tripadvisor, click here.
3) Attractions: select a category that best describes your attraction. Click here to see the guide on 'Attractions'.
4) Add your restaurant description
5) Choose images that can best represent your restaurants to make a strong first impression with TripAdvisor users. These images could be your signature dishes, interior etc.
Note: These images need to be in JPEG or PNG format, and smaller than 100kb. Images with borders, logos or files are not acceptable.
6) Confirm the information and click the 'Submit' button to complete the process.
7) Once you request your listing, Tripadvisor editors will verify your details and confirm that your property meets the guidelines for the business type you've selected. This typically takes about 5 business days.
If you have any questions, click here to see more on how to get your business listed on TripAdvisor!