Our newest feature called Seating Priority provides a better allocation mode to your system.
This replaces Table Order. This means that the system has an allocation and un-allocation mode. When a party is allocated to a table that the restaurant has assigned, TMS will not be able to assign another table. When a party is un-allocated, it means that TMS can move it silently to the best table available on the system.
To access and edit your Seating Priority, follow this steps:
1) Go to Menu/Tables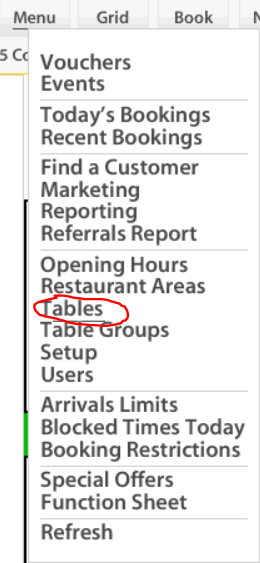 2.) Select Seating Priority

3. If it's the first time that you access this, it will appear in blank. On the first column, add the party size that you would like to edit it could be only for 1 cover, to 1-2 covers, only 2 covers, etc. On the next column you would need to add the tables you would like to be occupied first according to that party size. For example, for a party size of 1 and 2 covers, the restaurant wants to first assigned table 1. If that's not available, then table 2 and so on. You can also add table combinations.

Note: We recommend to add the preferences on all the tables and party sizes that the restaurant uses. Also, be sure to check the minimum and maximum on all tables to get efficient results on your bookings.
4. Click Save when you've finished.